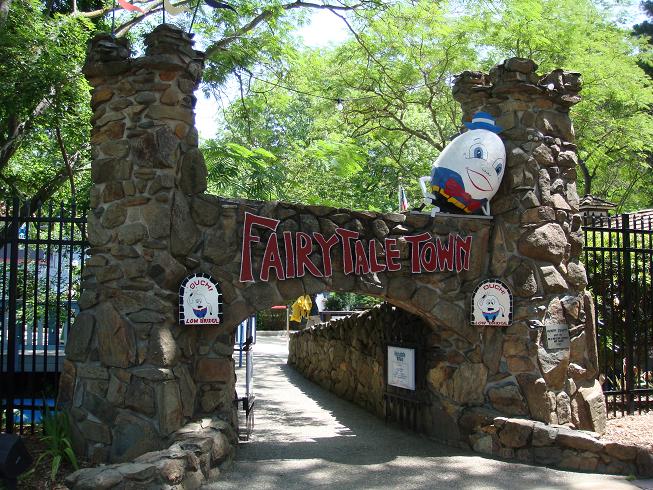 Fairytale Town is a 2.5-acre, whimsical children's park that provides entertainment and education to children in miniature re-creations of sites based on fairytales and nursery rhymes. Fairytale Town  is located in William Land Park located near Sacramento Zoo.
Fairytale Town is an old fashioned amusement park that has been around for a while,  providing regularly scheduled audience participation puppet shows, theater activities, musicals and plays based on children's literature as well as workshops in arts and crafts. Notable attractions include the boot of the Old Woman Who Lived in a Shoe, the Crooked Mile, a pirate ship and puppet shows on weekends. There are live animals to view, from Mary's Sheep to the Three Little Pigs.
Open: daily – 09:00 to 17:00
Admission: charge, child ages three to 12 years discount, children under three years freeContact Info:
Address: 3901 Land Park Drive, Sacramento CA 95822
24-hour: (916) 264-5233
Main office: (916) 264-7462
Web: fairytaletown.org
Open the following holidays: Martin Luther King Jr., President's Day, and Veteran's Day.
The park closes early for special events, such as the Midsummer Night's Dream and Ice Cream Fantasy events or closed entirely for special events.
Play Areas:
Here are the different areas in the park.
Alice's Rabbit Hole
Cheese Stands Alone
Cinderella's Coach
Crocked Mile
Jack & Jill Hill
Jack and the Beanstalk
King Arthur's Castle
Mother Goose
Mr. McGregor's Garden
Native American Village
Owl's House
Sherwood Forest
The Alphabet Garden
The Children's Theater
The Dish & Spoon Café
The Japanese Garden
The Little Engine that Could
The Mother Goose Stage
The Old Women Who Lived in a Shoe Slide
The Pirate Ship
Live Animals:
These familiar animals are on hand.
Farmer Brown's Barn and the Little Red Hen House
Mary's Lambs
The Tale of Peter Rabbit
Three Billy Goats Gruff
Three Little Pigs
Leave a Reply
You must be logged in to post a comment.